Hurricanes Katrina & Rita - Crisis & Recovery
New Orleans Backup - Data firm saves 800,000 Internet sites
directNIC Notice 11/9/05 Inside Central New Orleans...
Our phone systems are currently down, please contact us via our Trouble Ticket System -9/9 11:20AM

FTP notice: For Free or Bannerless hosting, please use your domain name as the host name, rather than the IP address. Please do NOT add "www." or "ftp." to the domain name. We are migrating these sites to new servers and those IP addresses are subject to change without notice. -9/4 11:40AM

Press Release - 8/31 4:00PM

Blog frequently updated at: http://mgno.com/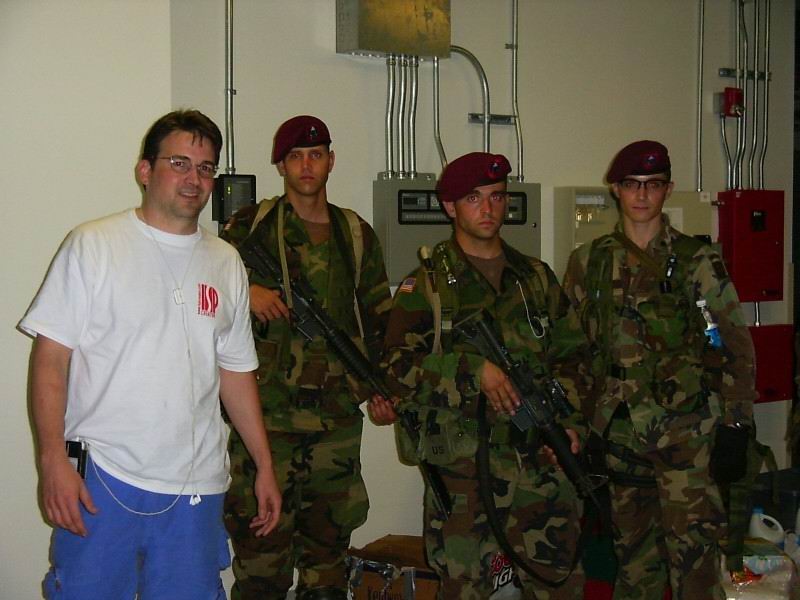 "Guests" Wednesday, September 7th, 2005 - Sig with our Midnight "Guests"...
(Photo of Sigmund Solares & US Army troops in the Company office in New Orleans)
Last Night
Sometime around midnight, a squad of 82nd Airborne guys accompanied by a US Marshall busted into our Data Center with their M4-A1s to investigate the lights and movement. Personally, I know they were just bored -- there's no way they honestly thought there was some kind of threat up here just yards away from several huge military and police presences. Anyway, they came up and demanded to account for us all. That means they told Donny, who was still up, to come wake up Crys and me in the side closet room type area where we sleep. I could hear Donny telling them that I was exSpecial Forces as he came to get me. He stuck his head in and explained the situation while I made Crys get up and get dressed. We came out and I gave the Marshall a sheepish look which said was this really enough fun for to relieve your boredom? He kind of knew they shouldn't be up here -- I think it was Crystal's being here which really made him snap out of it. He began apologizing and I could tell the yound soldiers with him were really shy about having seen Crystal come out too.
But I didn't let them all off that easily. "Hey, I understand. I know you guys are just doing your job." He kept apologizing. Then I put them to work. "So wait, how did you get up here anyway? We locked this building down....
The Marshall claimed that one of the emergency exits -- the one on the Lafayette Square side had been open. I knew this was bullshit. For one thing, Sig and I tied down and concealed that door. It would have taken a group of guys to open it. For another Lafayette Square is to the south of our building. The only lights visisble are from Poydras to the north. Am I to believe that they bypassed the obvious entrances (also locked down) to look for one they didn't even know existed and it just happened to be open?
No, they searched for a way in, and by the time they got around back and found the emergency exit, they were ready to break in, so they did.
"Wait, we secured that exit. That means that this building might have other people in it," I told them.
They all knew what was coming next. If it was their job to check on lights and movement to look for people who didn't belong there....
I asked them to sweep the building for us.
And they did. All 27 floors of it with no elevators.
If you want to play soldier with me, I will make you play it a lot longer than you had in mind.
Crystal and I went back to bed secure in the knowledge that a US Marshall and a squad from the 82nd Airborne cleared 27 floors and the roof of our temporary residence. And then they secured the door they must have spent 45 minutes breaking into.
Most restful sleep I've had all week.
Good morning, world. Sigmund Solares (http://www.livejournal.com/users/interdictor/?skip=20)
Video Save as or Open... -

The New Orleans Compnay inside video 13/9/05 22:20 East
The New Orleans Compnay inside video 12/9/05 06:20 Eas
Media Report
Audio
ITConversations with Sigmund Solares CEO, DirectNIC : Surviving Katrina with DirectNIC

One company still hums in Big Easy
Data firm saves Internet sites, computers
By PATRICK COURREGES
Sunday, Sept. 11
Acadiana bureau
NEW ORLEANS -- A New Orleans-based technology company has started its own rescue operation, trying to save the data of downtown companies cut off from their electronic records.
Michael Barnett has been on watch at the downtown data center of Intercosmos Media Group -- owned by his friend Sigmund Solares -- since the Saturday before Hurricane Katrina hit, making sure that the Web sites and domain name registrations the company's subsidiary maintains stay up throughout.
Barnett, a part-time information technology consultant, said Intercosmos has not lost a minute of power during or after the storm, thanks to the generators built into the high-rise building on Poydras Street by their former owner Enron.
Solares got the generators when he bought the data center, and the machines are paying dividends not only for his clients, but for neighboring businesses and agencies who've gotten the word that Intercosmos is still running, Barnett said.
Businesses close to Intercosmos have begun calling in the past five to six days, asking Barnett's team to go and fetch computers and servers from their offices and get them back online at the Intercosmos data center, he said.
Barnett said some companies who do business over the Internet have asked for help getting their Web sites back up, while others need computers powered back up and connected to the Internet to get critical company data.
He said that data includes such things as payroll and tax records.
Barnett and a team of three assistants -- including his fiancé -- took station on the 10th floor of the building two days before Katrina hit and stayed through about Friday, excepting Barnett, who's still not sure when he's going to rotate out.
He said that the groups seeking help in getting data or maintaining a Web presence include New Orleans' Contemporary Arts Center and the D-Day Museum.
Barnett said New Orleans' city government has also contacted the company about getting some information technology assistance.
He said that his crew hasn't been able to respond to every request for help, sometimes because the location is too far away and sometimes because communications can't be coordinated between the company asking for help and the security in the building where the computers are.
Barnett said there's been no talk of fees or charges for the data rescue work.
"A lot of it's good will right now," he said.
In the meantime, Barnett said he's had a bird's eye view of the goings on downtown since Katrina hit, watching the water come in and recede, the looters come and go, and the arrival of the military to help restore order.
He said his crew had one lively moment after the hurricane, when a U.S. Army detachment, having seen movement and light in an otherwise dark area of the city, stormed in to find out what was going on.
Barnett said the soldiers calmed down a bit once he explained what the workers were doing.
For himself, Barnett said finishing the job of holding the company together for his friend will likely be the end of his working career in New Orleans.
"The way business is going to be here, what's going to be here for me?" he asked.
Barnett said Florida is looking appealing at the moment as a place to start his future.
"I might as well go somewhere else, and it might as well be somewhere with a beach," he said.
In other developments Saturday:
Advocate staff photo by PAUL RUTHERFORD
Shane Savoie, left, and James Winston, both computer programmers, work Saturday
afternoon in the offices of directNIC on the 10th floor of a building on Poydras Street
in downtown New Orleans. The company has a data center that never shut down in the
wake of Hurricane Katrina.
Federal Emergency Management Agency spokesman Ed Conley said the organization has paid out $669 million nationwide to families affected by Katrina and registered 573,262 families.
American Red Cross Red Cross spokesman John Degnan said the organization is seeking 40,000 additional volunteers to relieve workers who have been helping victims for nearly two weeks. Prospective volunteers should go to their local Red Cross chapter for more information and to sign up for a six-hour training class.
Click here to return to story:
http://www.2theadvocate.com/stories/091105/sub_data001.shtml
In central New Orleans, a Web firm pushes on
As employees try to keep sites up, crisis manager's blog offers vivid details
AP - Updated: 9:35 p.m. ET Sept. 1, 2005
Even as its employees sleep on the office floor, breathing diesel fumes from a generator and watching looters from their windows, a Web company in New Orleans vows it won't let the hurricane shut it down.
Employees of Intercosmos Media Group Inc. have been holed up in a 27-story skyscraper since Sunday morning, according to crisis manager Michael Barnett.
They are trying to keep their data center alive and with it some 800,000 Web sites that would otherwise go offline, including online backup site dataprotection.com. Intercosmos also is responsible for 1.2 million Web site names registered through Directnic.com.
The central business district that Intercosmos occupies is dry, but civil order has broken down and getting diesel fuel for the generator has been a major concern.
"We need diesel. We'll find some. We have people depending on us and we are not going to let them down," Barnett wrote in his "interdictor" Web journal. "It is a zoo out there though, make no mistake. Anyone who is on the streets is in immediate danger of being robbed and killed. It's that bad."
Reached by instant messaging, as phone lines were down, Barnett said security had improved somewhat Thursday afternoon with the arrival of troops.
Intercosmos also secured "a decent amount of diesel," but its fiber-optic connections to the Internet were dropping off one by one, Barnett said. To save bandwidth, they had to take down the humor site SomethingAwful.com.
For security reasons, Barnett would not reveal how many people were in the building or how they were armed.
On Wednesday, the company gave shelter to a police officer whose station was underwater. It also helped another company bring one of its most critical computers to Intercosmos' own data center. An unexpected payoff: 25 gallons of water from the other company's office.
Employees haven't been lacking food. The company has routinely supplied its employees with lunch up to twice a week, and chief executive Sigmund Solares was storing food "just to keep ahead," Barnett said via instant messaging.
"Sigmund Solares is the most organized, stockpiling human being on earth, and we all love him for it," Barnett said.
The accommodations, however, leave something to be desired: "I've been sleeping on the carpet, and that's a very thin layer covering the hard concrete. It takes about 3 days to get accustomed to sleeping on concrete," Barnett, a former soldier, wrote on his blog.
Barnett started the blog last week. One of his first entries: "Hmm. This could actually be a nasty storm."