<![if !vml]>

<![endif]>
Update 2011–12–05    -  2  Youtube Videos
____________
Engineer jailed for selling US stealth bomber technology to China
A former B-2 stealth bomber engineer has been jailed for 32 years by a US court for selling military secrets to China.
Noshir Gowadia, 66, made profits of at least USD$110,000 (£68,000) by selling classified engine technology that China needed for its design of a stealth cruise missile that could evade infra-red detection, the court heard.
"He broke his oath of loyalty to this country," said Judge Susan Oki Mollway passing sentence after a hearing in Honolulu, Hawaii, "He was found guilty of marketing valuable technology to foreign countries for personal gain." Gowadia, an engineer with the Northrop Grumman Corporation between 1968-88 who worked on the B-2 design, made repeated trips to China between 2003 and 2005 providing "defence services" to China's cruise missile programme as a freelance consultant.
The prosecution had called on the judge to impose a life sentence on Gowadia who used the proceeds of the sales to fund a luxury lifestyle on Hawaii where he lived in a multi-million dollar home overlooking the ocean on Maui.
Defence lawyers for Gowadia, an Indian-born engineer who worked on the engine design for the B-2 bomber, had argued that he had sold only unclassified technology.
However after a 40-day trial, he was convicted on 14 charges including communicating national defence information to aid a foreign nation, violating the arms export control act and several counts of money-laundering and tax fraud.
"He provided some of our country's most sensitive weapons-related designs to the Chinese government for money," Assistant Attorney General for National Security David Kris said in a statement after the trial.
Earlier this month China unveiled its first ever stealth fighter, the Chengdu J20, which is said to have been based on technology gleaned partly from parts of a US F-117 stealth fighter shot down over Serbia in 1999 during the Kosovo conflict.
China, who has promised a "peaceful rise", is currently investing heavily in upgrading its armed forces, including stealth technology, aircraft carriers and long-range missiles, raising concerns in Washington and the Asia-Pacific region.
"We're a little disappointed (the judge) didn't give him a life sentence, that's the sentence that would've sent the best message," said assistant US attorney Ken Sorenson said after the hearing, "But 32 years is stiff and in many ways an appropriate sentence for him." His son, Ashton Gowadia said after the sentence that his father intended to appeal against the verdict.
http://www.telegraph.co.uk/news/worldnews/northamerica/usa/8280233/Engineer-jailed-for-selling-US-stealth-bomber-technology-to-China.html
<![if !vml]>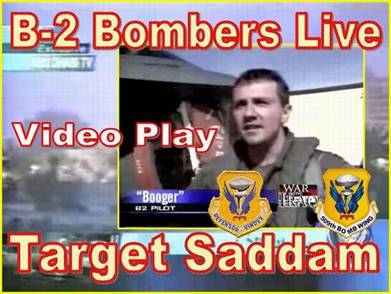 <![endif]>
<![if !vml]>

<![endif]> 
Government sources tell 4Law that Noshir Gowadia, who helped design the B-2, sold secrets about the bomber for hundreds of thousands of dollars to eight nations – Germany, Swiss, Israel, including China.
Update 9/11/06
Noshir S. Gowadia indicted in sale of secrets
<![if !vml]>
<![endif]>
4Law - The six-count indictment issued yesterday against Noshir S. Gowadia, 61, of Ha'iku, accuses him of "transmitting national defense information and exporting classified technical data related to defense articles to foreign persons" on three occasions, according to the U.S. attorney's office. Three additional counts accuse the former Northrop Corp. design engineer of violating the Arms Export Control Act. Each of the six counts carries a 10-year maximum prison sentence and a fine up to $250,000. Gowadia was an engineer with Northrop Corp. from 1968 to 1986 and was the chief designer of the B-2's infrared-suppressing propulsion system. The technology remains classified. On Oct. 23, 2002, Gowadia sent an official of an unnamed country a fax containing details for the development of top secret infrared suppression technology for a foreign military aircraft, according to the indictment. The other two examples listed in the indictment involve e-mails that Gowadia allegedly sent Sept. 6, 2004, and Nov. 22, 2004, to foreign business people containing proposals to develop infrared suppression technology for foreign commercial aircraft. The e-mails contained information, including PowerPoint presentations, classified as top secret and secret, according to the indictment. The e-mails were sent to Germany, Swiss, Israel . He sent all of these business proposals without "having first obtained a validated license or written approval from the United States Department of State, Directorate of Defense Trade Controls," according to the indictment.
<![if !vml]>

<![endif]>
<![if !vml]>

<![endif]>
Former Hawaii engineer arrested for disclosing national defense secrets related to the B-2 bomber and sharing classified information with foreign governments. According to 4law source one foreign country is India.
Charles L. Goodwin, Special Agent in Charge of the Federal Bureau of Investigation (FBI) at Honolulu, Hawaii, announced the arrest of Noshir S. Gowadia for violation of Title 18, United States Code, Section 793(e), "willfully communicating national defense information to a person not entitled to receive it".
Noshir S. Gowadia was an engineer employed by Northrop Corporation from November 1968 to April 1986. During this time period, Northrop was involved in the design and manufacture of the B-2 Spirit Bomber, a highly classified project. During his employment with Northrop, Gowadia held a position as a design engineer, and worked in the development of the B-2's propulsion system.
Investigation has revealed that Gowadia, over the last several years, has marketed himself to foreign military entities and other foreign persons and disclosed United States military technology secrets related to the B-2 to foreign governments in order to "assist" them in obtaining a higher level of military technology. Investigation has also revealed that Gowadia has been rewarded financially for his efforts.
On October 26, 2005, a complaint affidavit was filed charging Gowadia with a violation of Section 793(e) for disclosing information related to the national defense to a person not entitled to receive it. As alleged in the complaint affidavit, on October 23, 2002, Gowadia faxed a document containing details for developing infrared technology for a foreign military aircraft to a foreign official in Country "A". This document, which was a proposal for infrared suppression, was determined to be classified at the Top Secret level by the Original Classification Authority of the United States Air Force.
Additionally, the complaint affidavit alleges that Gowadia engaged in other specified criminal activity, during which he communicated or otherwise delivered classified government information to foreign governments or their representatives, specifically to Country "B" and Country "C".
This case is being investigated by the Federal Bureau of Investigation, the United States Air Force, Office of Special Investigations, and the Department of Homeland Security, United States Immigration and Customs Enforcement, and is being prosecuted by the Untied States Attorney's Office and the Counterespionage Section of the Criminal Division of the United States Department of Justice. The investigation is ongoing.
A criminal complaint is an accusation, founded upon probable cause determined by a federal judge. The defendant is presumed innocent unless and until proven guilty.
<![if !vml]>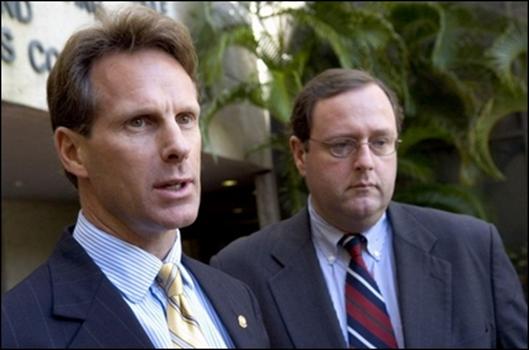 <![endif]>
Assistant U.S. attorney Ken Sorenson, left, and senior trial attorney and co-counsel Robert Wallace Jr. appeared in federal court in the case against Noshir Gowadia. (Photo   by  BRUCE ASATO - honoluluadvertiser.com)
FBI  AFFIDAVIT : USA v. NOSHIR  S. GOWADIA
<![if !vml]>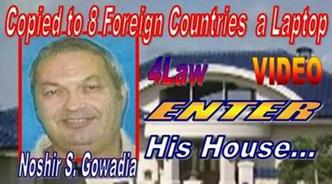 <![endif]>
<![if !vml]>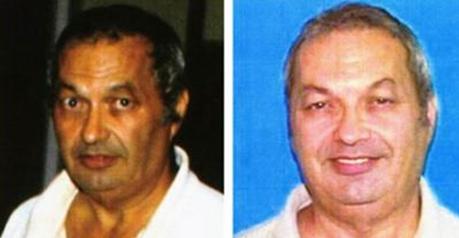 <![endif]>
Source Photo FBI :Noshir S. Gowadia
<![if !vml]>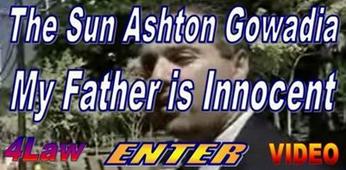 <![endif]>