Iraq Executes Saddam's Cousin 'Chemical Ali' for Crimes Against Humanity
Hassan al-Majid convicted for ordering 1988 poison gas attack on Iraqi Kurds, killing 5,000 in deadliest attack ever against civilians 25/1/10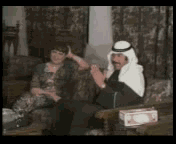 Ali Hassan al-Majid "Chemical Ali" Hanged In Iraq 25/1/10
Iraqi Cabinet Presses for 'Chemical Ali's' Execution 19/3/09
BAGHDAD, Iraq (CNN) -- The Iraqi Cabinet pressed the presidential council Tuesday to ratify court-ordered executions for
several former Iraqi officials convicted of crimes against humanity, including the ex-general known as "Chemical Ali," a government spokesman said.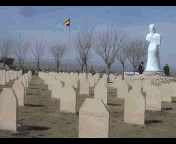 In Halabja - Kurds Reaction Asking for "Chemical Ali" Death 19/3/09
Halabja Massacre Photographer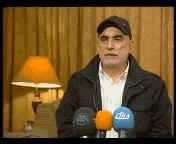 Photographer Ramazan Öztürk 19/3/09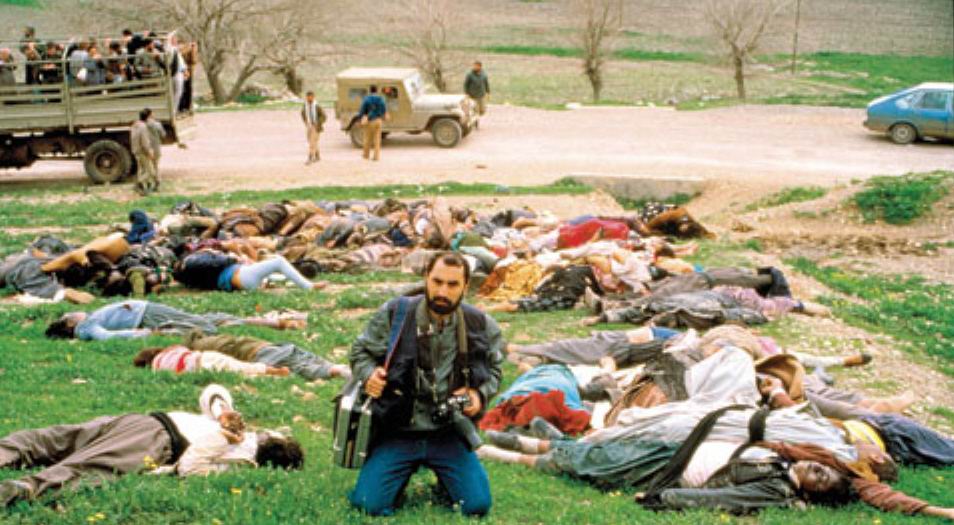 Photographer Ramazan Öztürk (C), whose photo "Silent Witness" has been regarded as the symbol
of the massacre in Halabja, was called as a witness by the Iraqi court hearing the "Chemical Ali" trial.
Photographer Ramazan Öztürk - He was working as a war correspondent in Iraq when the massacre began on March 16, 1988; he read a news report that day stating that Iraqi planes dropped chemical bombs on Halabja, killing many people. "I decided to go to Halabja as soon as I read the news. I told my editors. It was a region I knew. They told me to go. I headed to Iran. There were some other journalists from other countries with me. We were taken to the region with two helicopters," he said.
The helicopter left them somewhere on the outskirts of the town, and they were provided with gas masks and antidotes. "As soon as I entered the town center, I started to see corpses scattered all around. There were dead bodies, mostly of children, women and the elderly. The scene was terrifying," he said. The tragedy made him cry, but he was also thinking of ways to express the massacre to the world. "I said I should take impressive photos so that I can truly express the massacre to the world. Iranian soldiers were telling us to hurry. Then I came across a scene. A father fallen over the stairs of a house, holding a baby in his arms. I was deeply impressed. That was what I was looking for. It became 'Silent Witness'," he said. Öztürk also said he was followed and threatened by Iraqi intelligence officers after the photo was published. The Iraqi ambassador to Ankara called Öztürk and said that he did not want him not to cover the chemical massacre and offered him money. Ali Hassan al-Majeed, a Sunni Arab who was Saddam's cousin and a member of his inner circle, has already been sentenced to death three times, once in 2007 for his role in killing tens of thousands of Kurds in Saddam's "Anfal" campaign. Majeed's second death sentence came in December 2008 for his part in crushing a Shiite revolt after the 1991 Gulf War. He was given his third death sentence by an Iraqi court last week, this one for his involvement in killing and displacing Shiite Muslims in 1999.
Uday Hussein's Compound Being Destroyed 5/3/09
(Hebrew Calender "Maho Timhe Et Zeher Amalek" - Tet BeAdar Taf Shin Sameh Tet)
29/12/07 - Tikrit: Anniversary of Saddam Bungee Championship
Grafitti, Flowers on Anniversary of Saddam Execution in Tikrit Iraq 29 - 30/12/07
La vidéo complète de l'exécution de Saddam Hussein sur internet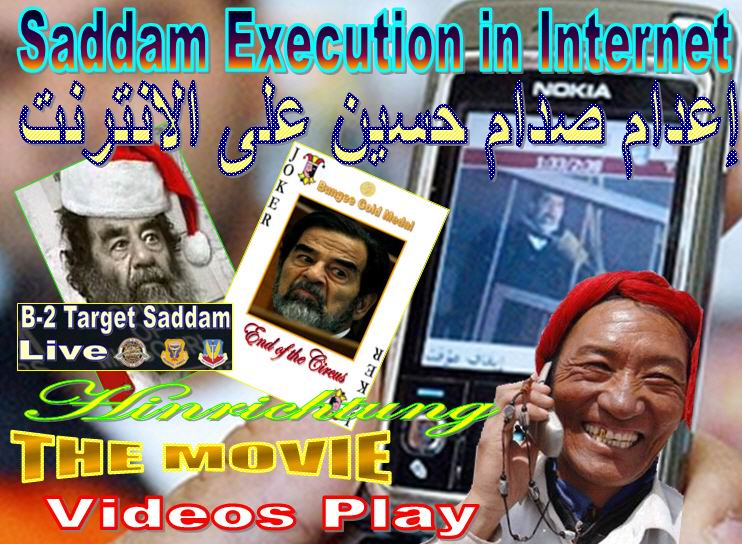 Sousa in the AFB - To hear click the picture
Col. Doug Raaberg, cmdr. of the 509th Bomb Wing : "that we'll do exactly what we're trained to do ... and that is kick the door down ... and then we're going to kill some targets."

The Bungee Jumping Shaheed in American Holiday Inn Resort from Sun Blog -

Army Jumping in The Tikrit Bungee Shaheed Palace Pool from Washington Post -

High Reso. Photo of Saddam Captured from Gen. Sanshez PPT by CENTCOM -

High Reso. Leaflet 1 Dropped in Iraq 3/03 on Saddam Regime by CENTCOM -

High Reso. Leaflet 2 Dropped in Iraq 3/03 on Saddam Regime by CENTCOM -

9/6/07
NEW SADDAM VIDEO POSTED TO THE INTERNET

Saddam After Jumping
On the last video of Proseutor`s Bungee Dance - 9/6/07
This video shows chief Prosecutor Munqith Al-Faroun [who was assigned to head the transfer of the body from the headquarters of military intelligence in the Kadhimiya district north of Baghdad] chanting sectarian slogans [victory for the Shiites] echoed by protesters and later Al-Faroun was carried on the shoulders repeating the same slogans.
Also notice that this "celebration" was in front of the headquarters of the Council of Ministers , where the body was carried by ambulance, and the tape shows pictures of a Guard in military uniforms and others dressed in civilian clothes carrying weapons chanting slogans, and that, according to "Al-Hayat" newspaper.Must be said also that at time the when the 1st video emerged to the public showing people chanting sectarian slogans inside the execution hall, Al-Faroun said to the Media that he tried to stop them but nobody would listen to him.Al-Faroon said he vigorously protested when people began to shout just before Saddam was executed, and that shouts of "Muqtada" came from guards outside the execution chamber.(uruknet.info)
Warning: The content is extremely graphic and may be disturbing to some viewers
Last video of Proseutor`s Bungee Dance & The corpse on Web

Warning: The content is extremely graphic and may be disturbing to some viewers
The new video of the Bungee's Shaheed corpse posted on Web
7/1/07
Kurd Genocide Trial Resumes & Charges v. The Bungee Jumper Dropped ,
Can not hang him for too long.
DOD Video - A Strike on the Home of "Chemical Ali" - 7/4/03 -

US Happy Hand Report - 4/1/07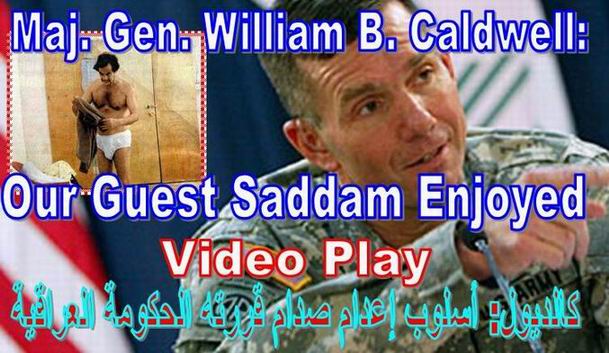 Saddam Bungee Report 30/12/06
Saddam Jumping
Warning: The content is very graphic and may be disturbing to some viewers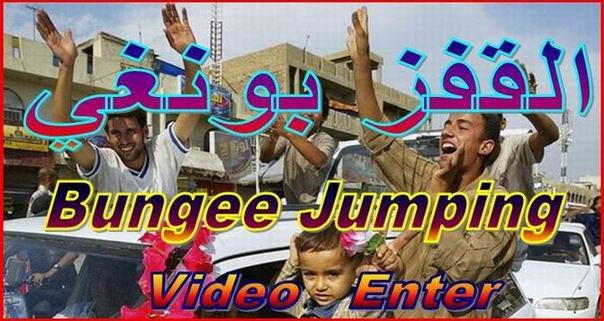 Saddam Dead
La vidéo officielle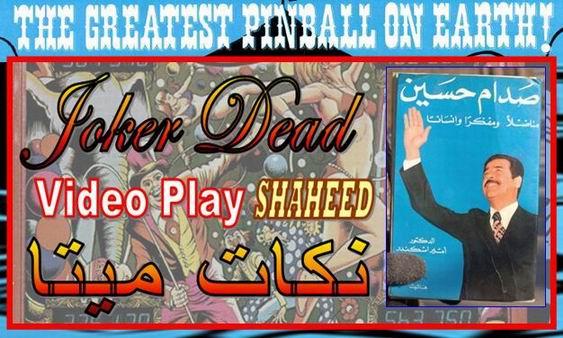 Saddam Hanging
La vidéo officielle
(17/1/03 - Arabic & English - PDF)
Saddam Hussein: Address to the Anniversary of the Mother of Battles
"Ich bin der Präsident!"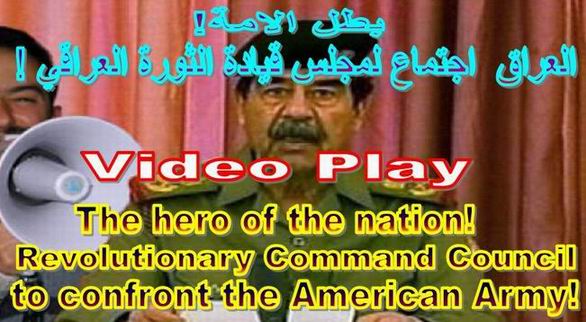 Bungee Jumpers Second Round - 15/1/07
L'exécution de Barzan al-Tikriti et Awad al-Bandar - La vidéo officielle

HANGED - Bungee Championship Notice
"Barzan the half brother of Saddam Hussein is really half a brother"

VOA:Iraq Executes Two of Saddam's Co-Defendants -

The Bungee Club Foundation

The Bungee Club Foundation established to increase
P2P opportunities for Internet leaked hanging videos (TikritTimes).
(26/12/06 - Arabic - PDF)
The Bungee Club Foundation Decision
The Supreme Iraqi Criminal Court, ratified the decision of Bungee Jumping for
Saddam Hussein & Barazan Ibrahim & Awad Hamad Albandar.

The Bungee of
Saddam & Barazan & Albandar should be implemented in a maximum period of 30 days.

VOA:Saddam Hussein Sentenced to Death for Crimes Against Humanity -

Updates
Update 9/3/07 - Saddam trial judge (Picture in this page - 2th from Right/4th from Left) seeks asylum in Britain
Al Jazeera TV said that Raouf Abdel Rahman had asked for asylum after going to Britain with his family in mid-December on a visitor's visa. - "...The application is being considered by the Home Office..." said the TV.Abdel Rahman also found guilty and sentenced to death Saddam's former chief judge, Awad Hamed al-Bander and Saddam's half-brother, Barzan Ibrahim al-Tikriti. Both were executed.
Raouf Abdel Rahman in Saddam Trial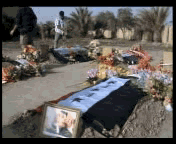 Update 20/3/07 - Saddam's sons buried next to him in home village.The remains of Saddam Hussein's two sons and grandson were exhumed and reburied next to the executed former Iraqi president in a hall in their home village of Awjah in northern Iraq on Tuesday 13/3/07.
Update 20/3/07 - Iraq's executed former vice president and aide of Saddam Hussein, Taha Yassin Ramadan, was buried in Tikrit, the home village of the late dictator, on Tuesday 20/3/07.
Taha Yassin Ramadan
Arabic Paranoia & Conspiracy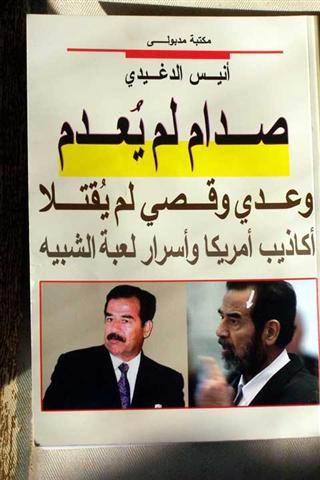 Cairo: "Saddam Was Not Hanged; Neither Were Uday and Qusai Killed: American Lies and Secrets Relating to the Game of Saddam's Body Doubles." Perhaps it is also a stern reminder of the impact of paranoia and conspiracy theories which continue to dog this region.Authored by Egyptian journalist Anis Al Digheidi and published by Madbuli, 'Saddam Was Not Hanged' is currently hitting the racks of many bookshops, making available to readers documents in image, sound, handwriting as well as experts' quotes, all of which prove that the man who stood trial and was said to have been hanged was Michael Ramadan, one of the look-alikes Saddam had used to replace him in a bevy of critical situations and official meetings.

Surprised George
Bush on Internet leaked hanging videos:"Let me just say it's unacceptable"(TikritTimes).
16/1/07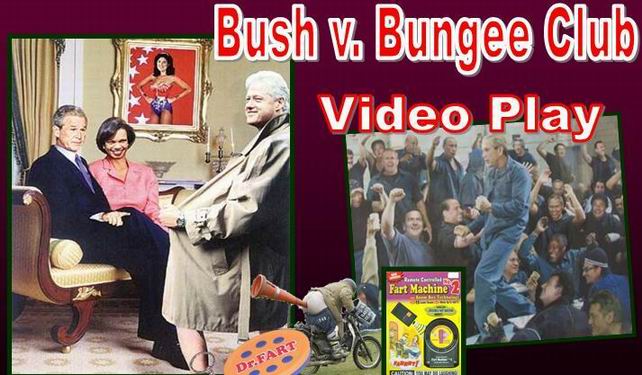 Wanted : New Saddam Circus for America - Hail to the chief (Tikrit Times).